Kijk
Bio Rad Gel Imager
via onze website. Wij zijn leverancier, producent, exporteur en een uitstekende ontwerper. We hebben ook vriendelijk werk team, dus we geloven dat we kunnen alles perfect voor u doen. Wij zijn ervan overtuigd dat de monsters zeer bevredigend zal zijn. Onze wederzijds begrip en samenwerking zal zeker resulteren in belangrijke zakelijke en goede service.If u enige kans om beter te doen, laat het ons weten, wij zullen ervoor zorgen dat al uw vragen onze onmiddellijke aandacht zal krijgen.
Al het personeel zal de oude en nieuwe klanten te bedienen met de beste
Bio Rad Gel Imager
en de beste service. Uw tevredenheid is onze tevredenheid, we verwelkomen en waarderen uw suggesties en feedback over hoe wij u beter van dienst. Vooruitblikkend naar het hebben van een goede zakelijke relatie met u binnenkort!

Bio Rad Gel Imager

Model - 5-2,Bio-5000 Plus

Professionele gel-imager

Gel Scanner voor elektroforese Gel,SDS-BLADZIJDE,Western blotting,en biologisch monster droog of nat

Microtek's Bio-5000 Plus is een twee-platformscanner speciaal ontworpen voor de professionals die zich richten op het scannen en bestuderen van biologische elektroforese gels.Het is uitgerust met een optische CCD met een resolutie tot 4800 dpi en het bereik,tussen 0.05D en 3.77D,van de optische dichtheid biedt u een slimmere manier om verschillen tussen elke laag gescande elektroforese gels vast te leggen.Met een ingebouwde-in Auto-Focus functie,Bio-5000 Plus kan de brandpuntsafstand automatisch naar de beste positie verplaatsen;dus u kunt afbeeldingen met topkwaliteit krijgen.Door het ontwerp van twin scan-bed,het is best handig om je te plaatsen Bio-5000 Plus in werking en verlaagt het risico op wederzijdse infectie bij experimenten.daarom,Bio-5000 Plus is de beste keuze voor scanning elektroforese gels.

Kenmerken
tweevoudig-scan bedden–8"x 10"voor gel&transparante film/8.5"x14"voor reflecterend
Auto-focus zorgt voor de beste scankwaliteit
Speciaal-ontworpen verwijderbaar lek-gratis glazen houder
Geen opwarmtijd met energie-besparende LED-lichtbron
0.05D~3.7D optische dichtheid
4800 dpi optische resolutie en CCD-beeldsensor
Levert nauwkeurige beelden voor zowel droge als natte gelmonsters
Handige MiBio-software voor analyse van gelbeelden
Bio-5000 Plus Brochure
bestek
Optische resolutie:4800 dpi(5 um vlekgrootte,94 lp/mm)
Type beeldsensor:CCD
Lichtbron:LED
Kleurmodi:48-beetje/24-beetje kleur,16-beetje/8-bit grijswaarden
Scangebied:reflecterende:8.5"x 14" (216 x 356 mm)
Transparant:8"X 10" (216 x 254 mm)
Scansnelheid:10.13 sec@300 dpi,8"x 10"
Optische dichtheid:0.05D~3.7D,3.77 Dmax
Dimensies(LxBxH):22.3"x 15.1"x 6.3" (567 x 385 x 158 mm)
Gewicht:26.4 pond. (12 kg)
OS-ondersteuning:ramen
Microtek International, Inc.
5-2,Bio-5000 Plus
none
999999999
http://schema.org/InStock
USD
2020-12-31
https://www.bestimagescanner.com/nl/bio-rad-gel-imager.html
Microtek International, Inc.
90
out of
100
based on
100
user ratings
Enquiry Now
Producten Lijst
View Detail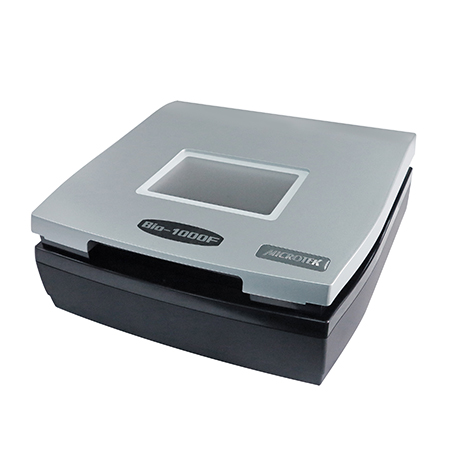 Microtek International, Inc.
Bio Rad Gel Imager fabrikant en Bio Rad Gel Imager leverancier ook ,groothandel,distributeurs,OEM,ODM-over 40,726 kopers over de hele wereld in bestimagescanner.com
5-3, Bio-1000F
none
999999999
http://schema.org/InStock
USD
2020-12-31
https://www.bestimagescanner.com/uv-gel-imager.html
Microtek International, Inc.
90
out of
100
based on
100
user ratings