We are reputed Taiwan
Large Format Color Scanner
manufacturer, supplier, exporter and factory. We offer our customers a comprehensive range of products that match the strict quality requirements of International market which has earned our company the distinct reputation of being a quality oriented Taiwan Exporter. We are recognized as one of the leading traders in this sector due to our capability to supply impeccable products to our customers. We laid our foot years back & ever since we are striving to deliver in our products innovation, competitive pricing & quality driven customer satisfaction.
Due to our excellent quality, good management system and superior after-sales service, we have already enjoyed a long-lasting good reputation in the world market. We will keep working on the goal of being a quality manufacturer. If you are interested on our
Large Format Color Scanner
and need further information or problems, please don't hesitate to
contact us
soon.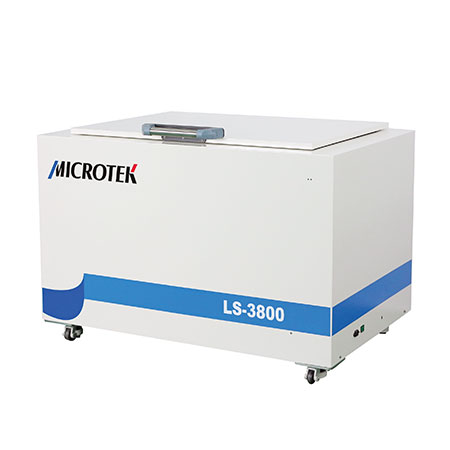 Large Format Color Scanner
Model - 3-2,LS-3800
A1 Professional Large Format Graph Scanner with 800 dpi
Multi-purpose A1 Large-size Flatbed Scanner
Microtek's LS-3800 is a flat and large-format scanner which supports a scanning area up to 37" x 24", larger than DIN A1 and perfect for scanning large documents, such as color posters, architectural drawings, industrial and construction blueprints. Moreover, it is also fit to scan clothes, textiles, hanging charts, bounded books, fragile materials, fine arts, and other exquisite originals. The LS-3800 has a color CCD with optical resolution of 800 dpi, ensuring superior imaging performance. The two-way switchable LED light source is perfect to scan subjects with either even or uneven surfaces. Also, it can be powered on immediately, requiring zero warm-up time. Users only need to put originals to be scanned on the glass surface and then they can easily get clear images.
Features
Scanning area is up to A1+ size (940 mm x 610 mm)
Flatbed design for a wide variety of documents and objects
Advantages of a switchable two-way LED light source
10 mm Depth of Field
Convenient casters for easy movement and stationary
Optional professional ScanWizrd Cubi/DTG scanning software meets various demands
LS-3800 Brochure
Specifications
Optical Resolution: 800 dpi
Image Sensor Type: CCD
Light Source: LED
Color Modes: Color / Grayscale / B&W
Bit-Depth: 48-bit input
Scanning Area: 940 mm x 610 mm (37" x 24")
Scanning Speed: 30 sec @200 dpi, A1/color
Dimensions (LxWxH): 1330 x 870 x 880 mm (w/o cover)
Weight: 379 lbs. (172 kg)
OS Support: Windows 
Microtek International, Inc.
3-2,LS-3800
none
999999999
http://schema.org/InStock
USD
2020-12-31
https://www.bestimagescanner.com/large-format-color-scanner.html
Microtek International, Inc.
90
out of
100
based on
100
user ratings
Enquiry Now
Products List