As a professional
X Ray Film Digitizer
manufacturer, supplier,with factory in Taiwan, we supply remarkable
X Ray Film Digitizer
for our customers. Our high quality and reliable products were in accord with international standard. If interested, please
contact us
for more information.
All the staff will serve the old and new customers with best
X Ray Film Digitizer
and the best service. Your satisfaction is our satisfaction,we welcome and appreciate your suggestion and feedback on how we can serve you better. Looking forward to having good business relationship with you soon!!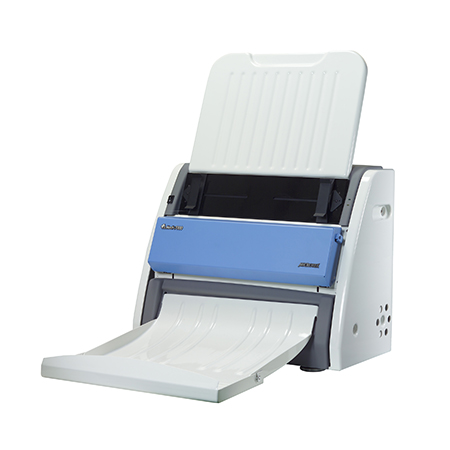 X Ray Film Digitizer
Model - 8-1,Medi-7000
High-Speed, Comprehensive Medical X-ray Film Digitizer
Fast scanning speed of just 7 seconds per chest film
Microtek medical grade digitizer, the Medi-7000, can digitize X-ray films rapidly in 7 seconds per chest X-ray. With the advanced technology of the LED light source, the Medi-7000 can reach full brightness and on/off operation immediately. The Medi-7000 can scan various sizes of X-ray films up to 14 x 35 inches, letting user easily archive many kinds of X-ray films. Equipped with high optical resolution, excellent Dmax, and 16-bit grayscale, the Medi-7000 ensures that the scans will capture all the details presenting in any area of the film and offer the superior image quality to the medical professionals.
With the optional MiPAX systems of DICOM ready function, Medi-7000 is perfect for fast-paced environment of the medical doctor's office, QC Station and PACS system.
Features
FDA, CE MDD certified
7 seconds per chest X-ray film scanning
No warm up time with LED light source
4.0 Dmax, 600 dpi optical resolution (42 µm spot size, 12 lp/mm)
Covers various sizes of X-ray films from 2.5" x 2.5" to 14" x 35"
Auto-crop & Auto-deskew
Supports DICOM 3.0 and telemedicine
Optional versatile professional MiPAX-Xray software makes e-medical records management easy
Medi-7000 Brochure
Specifications
Optical Resolution: 600 dpi (42 um spot size, 12 lp/mm)
Image Sensor Type: CCD
Light Source: LED
Color Modes: 8/12/16-bit grayscale
Bit-Depth: 16-bit grayscale
Scanning Area: 14" x 35" (355.6 x 889 mm)
Scanning Speed: 7 sec @300 dpi, 14" x 17"
Optical Density: 0.12D ~ 3.7D, 4.0 Dmax
Dimensions (LxWxH): 330 x 526 x 435 mm (w/o tray)
738 x 526 x 696 mm (w/ tray)
Weight: 38.58 lbs. (17.5 kg)
OS Support: Windows
Microtek International, Inc.
8-1,Medi-7000
none
999999999
http://schema.org/InStock
USD
2020-12-31
https://www.bestimagescanner.com/x-ray-film-digitizer.html
Microtek International, Inc.
90
out of
100
based on
100
user ratings
Enquiry Now
Products List